Looking at the #buslife tag on Instagram makes owning a skoolie look 100% glamorous. And don't get me wrong, it's a great way to travel! But there are a lot of logistics that you don't necessarily see through the lens of social media. One of those is where the heck are you going to park?!
This post is meant to help with the logistics of where to stay, so that you can spend more time on the picture-perfect moments.
Your options range from last minute parking lots to beautiful sites with nice amenities and private views, and everything in between. In order from most ideal to most last-minute:
Hipcamp: like AirBnB for the great outdoors
I know, I know: when you built your skoolie (or van), you didn't imagine spending a ton on "glamping", but hear me out.
Hipcamp is like AirBnb but for outdoor sites, meaning that they specialize in tent camping, RVs, and other more rustic vacation options.
In the same way that AirBnb can let you stay at some awesome real estate not normally open to the public, Hipcamp can get you a stay at alpaca farms, meaderies, horse ranches, wilderness retreats, and more.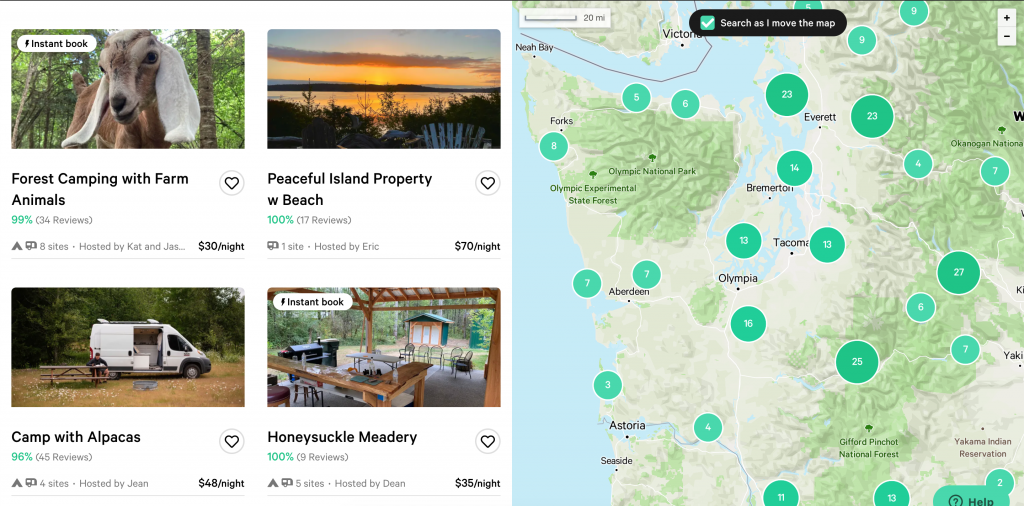 You can also sort by property description (lake, beach, forest, etc.), as well as nearby activities in the area, such as hiking, rock climbing, fishing, and more.
To use Hipcamp, input the area, dates, and number of people. Then, on the search page, select "RV". This will remove tent camping and other "glamping" sites that can't accommodate your skoolie.

You can also filter by amenities, although these probably won't align exactly with what you'd expect from a KOA. For example, there's "water" available as a filter, but not dump sites. Be sure to read descriptions to make sure there's enough parking space for your vehicle length.

The downsides to Hipcamp is that it's more expensive than the other options, and you need to book in advance. But, there are a lot of cool sites available, but it's definitely worth checking out, even as an occasional option.
Hipcamp is available as a mobile app in addition to the website linked above. One more thing: Hipcamp has a number of socially-conscious and safety partnerships with Recreate Responsibly, Leave No Trace, the National Weather Service, as well as a zero-tolerance policy against discrimination, all of which are pluses in my book.
Sēkr: Built for Van and Bus Life
Sēkr was originally called "The Vanlife App" and has since rebranded. It's available solely as a free mobile app with the option to upgrade.
Its purpose is to help van and bus life folks find low-cost or free camping spots, as well as other safe overnight options (parking lots, etc.)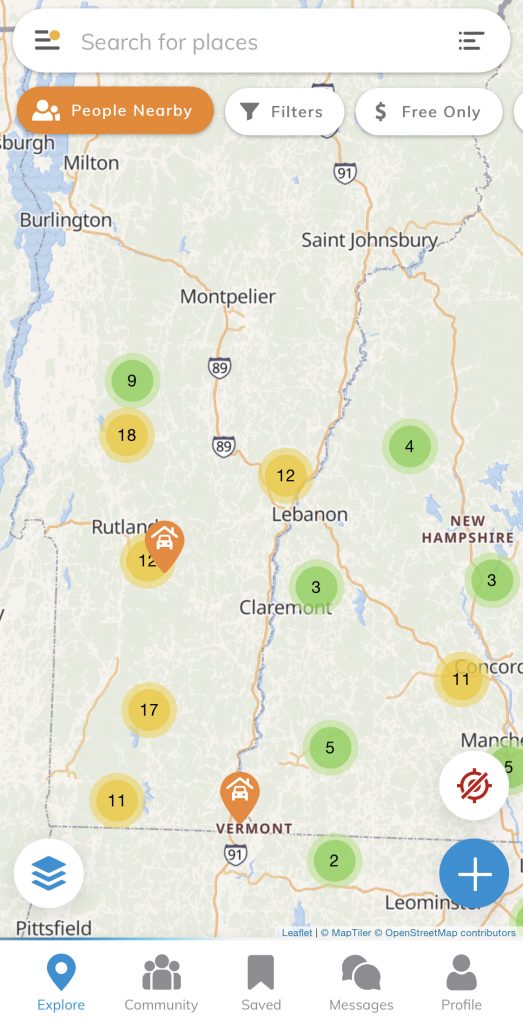 When you open up the app, you'll see a map. You can filter by camping style (dispersed, campgrounds, overnight parking, and camp share), so there's a bit of everything for everyone.
You can also filter by RV-, van- and bus-specific amenities such as dump stations, laundromats, water fills, and more. Finally, you can filter by vehicle size. While skoolies aren't an explicit option, "large RV" will work well enough.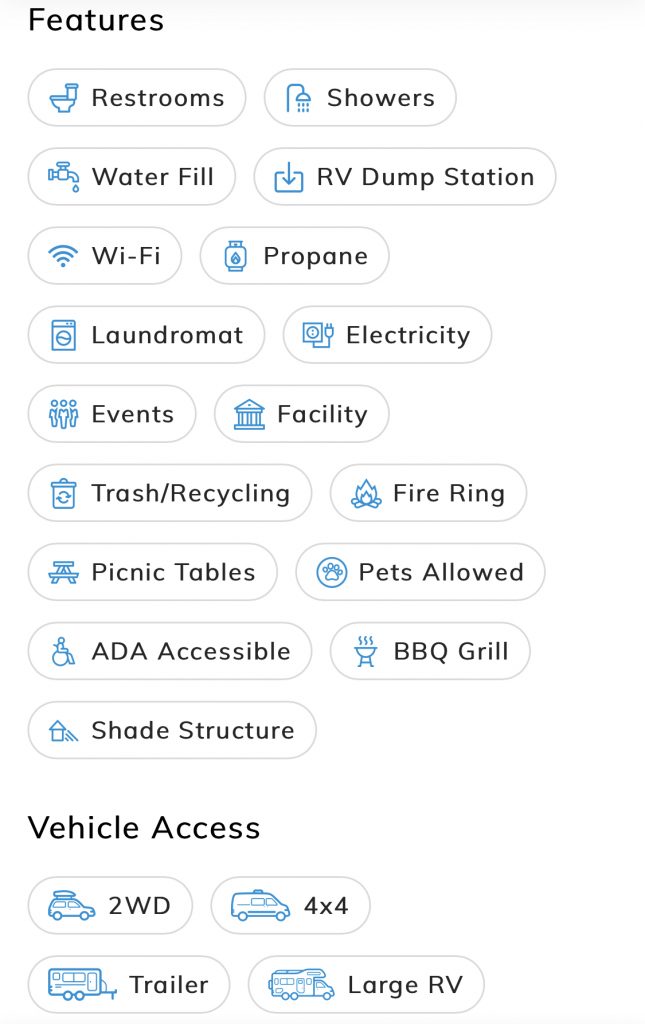 If you buy the premium version of the app, you can connect with other van and bus life folks in your current area. For some people, this is a feature, for introverts, maybe not 😛
Dispersed Camping, AKA "Boondocking"
This app includes campgrounds, camp shares and parking lots, but in my opinion, dispersed camping is where it really shines.The app allows you to add (free) dispersed camping sites, as you are allowed to camp on BLM (Bureau of Land Management) and other types of federal lands. On the map, this shows up as a lighter blue icon without a dollar sign.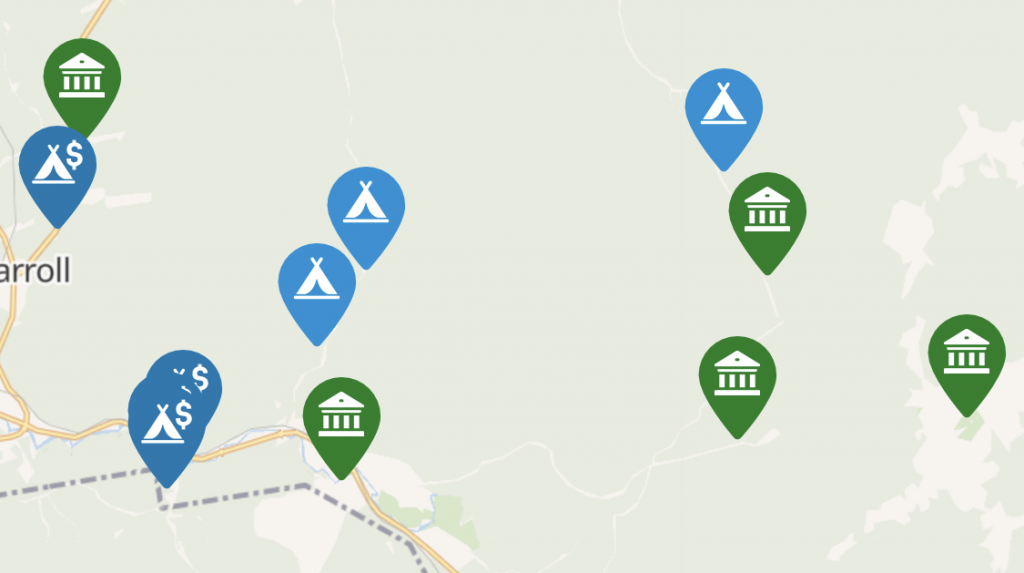 What this means for you is a free site that typically has few or no amenities, but has a ton of privacy. These are usually "well kept secrets", and more often than not, you'll be out in the wilderness with few or no neighbors, and a night full of stars.
On a recent trip, we used this app to find dispersed camping along the outside of Badlands National Park, which meant a free stay with a view better than any paid camping option.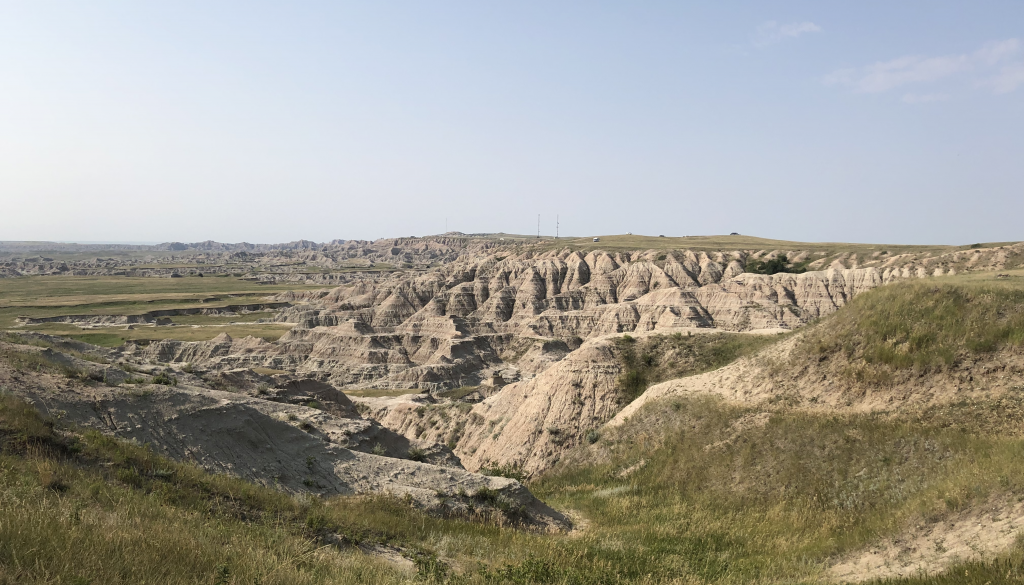 To get started, visit sekr.com and download their app. Once you're logged in, the map will show sites in your area, but you can scroll to other areas, too.
One caveat with this method is that it takes some trial and error. There's no method of reservation, and since it's first-come-first-serve, you'll want to head to sites earlier in the day. It's no fun to be trying to find a place to park while not disrupting other skoolies!
Dispersed and Developed Camping
Of course, not every hidden gem of a campsite is going to be shared on apps like Sekr, for those who want to keep their well-kept secrets, well… secret.
Dispersed camping on BLM (Bureau of Land Management) lands can be done without an app, provided you do some reading and planning in advance.
The BLM camping page lists a few rules about dispersed camping. You need to not disturb wildlife, obey other posted laws (such as areas "closed to camping"), and you are not allowed to camp for more than 14 days in one area in a 28 day period. For more information, check out their page.
You can also check out Campendium, which offers a directory of free camping sites.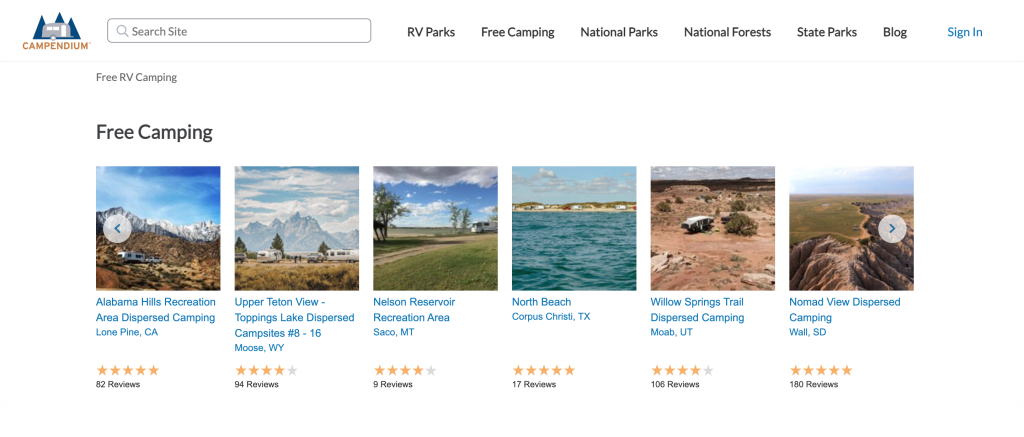 Developed Camping
They also oversee "developed" camping, which refers to the typical campgrounds that have reservable, individual sites. These campgrounds sometimes offer bathrooms, fire pits, picnic tables, and so on. You can expect to pay $10-30 a night, depending on the location.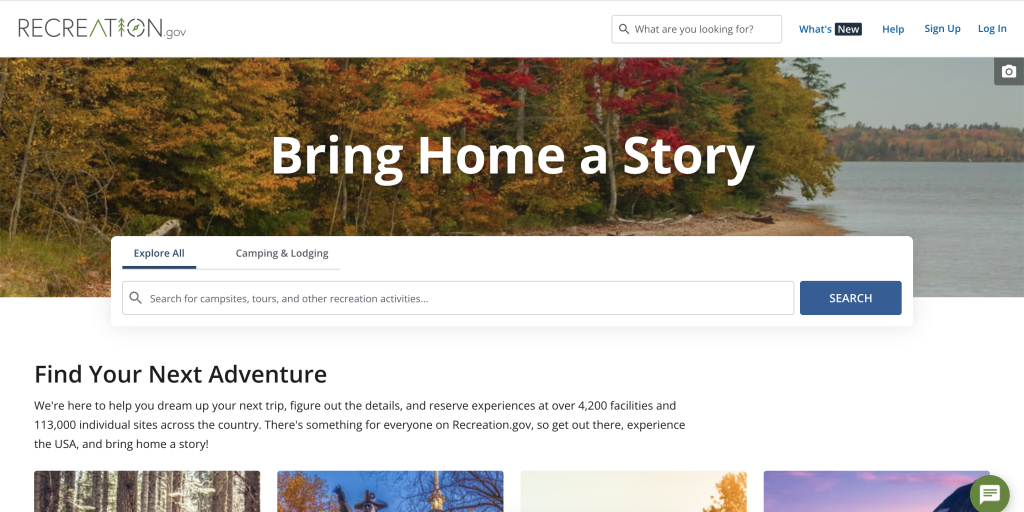 While the traditional way of getting of these sites is first-come, first-serve, there's now a website to reserve them. Head over to Recreation.gov and search for campsites.
I like to use this site to "shop around" for different campgrounds, as there are often lots of reviews and photos (more so than Google Reviews and other sites). The upside of Recreation.gov is peace of mind, knowing that you've got a site reserved in advance.
Reserve America Camping
Similar to Recreation.gov, there's a phone app called RA Camping (short for Reserve America Camping). While I've found the app to be somewhat buggy, it's helpful for reserving campground sites without the use of a laptop.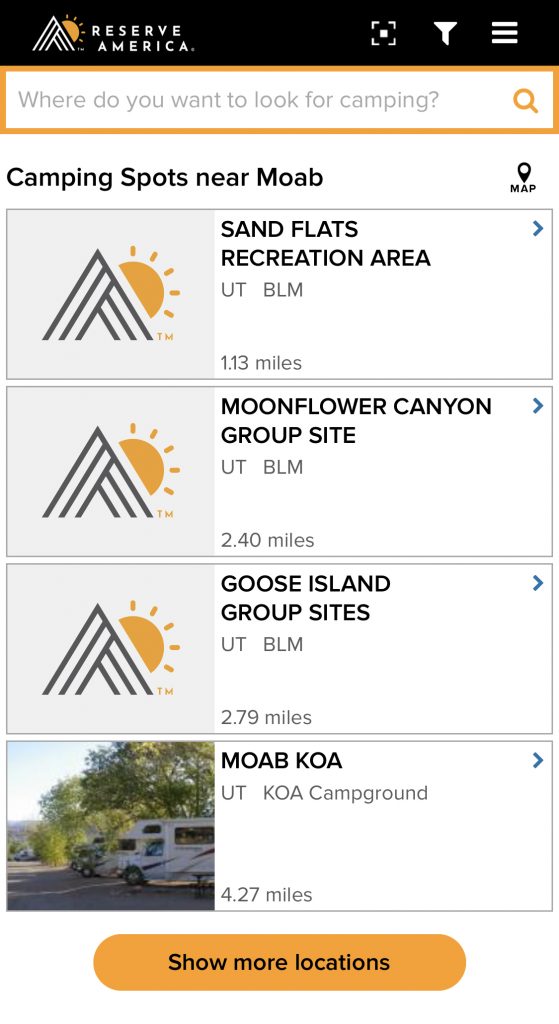 RA Camping also includes KOAs and other more RV-centric options. The filtering isn't as good as the other apps on the list, as the app is more map-focused.
KOAs and other "normal" RV sites
Traditional RV sites are definitely not my first choice, because I prefer more space, and don't have kids that might benefit from having other families close by. That being said, they do have a lot of amenities, are reservable, and can be found just about anywhere. Be sure to book ahead during the high season.
Rest Areas and Truck Stops
If you're traveling on main highways, you can probably find a rest stop along your path. These offer free parking that are often well-lit, with "real" bathrooms nearby (plus, dog runs if you have a pet with you!)
Likewise, truck stops can be a good option, since you can fill up your tank on the way out. Be sure not to park any trucks in, and don't expect a great night's sleep, as many of the semis will be leaving at first light. On the upside, they're free, and you probably needed to stop for gas anyway, right?
Parking Lots
Last and probably least, there are a lot of parking lots that will work if you run out of other options.
Large box stores, particularly ones that are open 24/7
Ride-and-share parking lots
Hospitals or other "public" facilities with open parking
Other sites as listed in the Sekr app
Be sure to look for somewhere well-lit, and park away from the building so that you're not preventing anyone else from parking close to the building. If I have to stay in a parking lot, I try not to overstay my welcome, and leave first thing in the morning.
Conclusion
I hope this post has been useful! What other places do you use to park your skoolie?