Although RV manufacturers strive to provide versatility to grant customers many interior configuration options to choose from, you may still feel like you want a vehicle with a layout that's more specific to your taste and requirement(or maybe you just like taking on big projects 😛) This is where a skoolie comes in!
Skoolies are the dream of every RVer who prefers to build a portable home their own way. Basically, you buy a decommissioned school bus and remake it. As we've covered before, skoolies are a great way of traveling the road in comfort, and many people have absolutely stunning skoolie conversions.
To get the show on the road, however, you'll need to complete a registration process to convert the skoolie title–usually commercial–to an RV/motorhome title. The procedure can take some time and effort, not to mention, it can also be a bit confusing as each state has a slightly different take on the requirements.
We've put together the following guide to help those who choose to go this route and make things easier for everyone. We'll outline the general steps of skoolie title conversion in the United States, then discuss–in more detail–the requirements you can expect from your local DMV (state's Department of Motor Vehicles).
General Procedure to Convert Skoolie Title
Before we dive deeper into the requirements for converting a skoolie title into a motorhome title, it helps to have a general outline of the procedure to refer to down the road and help you see the big picture.
Step 1 — Get Your Documentation Ready
Once the bus is decommissioned, you should prepare all the needed documentation. Generally speaking, you'll need the current title to the bus, the VIN, proof of insurance, a weight certificate demonstrating empty weight, and the bus's license plate.
Keep in mind, there might be some variations from one state to another, but most states will ask for these requirements.
Step 2 — Document the Change
You need to make photocopies of all the receipts covering your expenses for converting the bus, especially major expenses such as lumber and appliances instead of nuts and bolts.
Also, don't forget to take before and after photos of the changes that the bus went through. Be sure that your documentation includes shots of the completed work for the interior and exterior of the vehicle.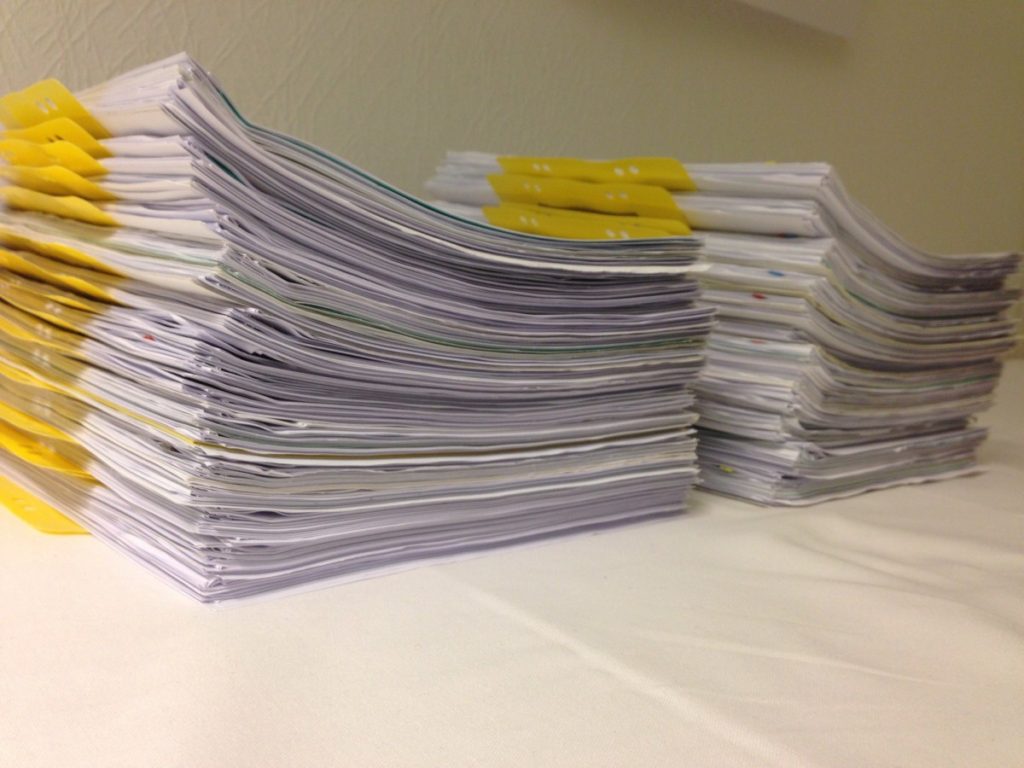 Step 3 — Get an RV/Motorhome Title Application
Visit the website of your state's DMV then download and print out a copy of the application for a motorhome/RV title. If not possible, you can simply pick up an application from your local DMV office.
Once you have the application in hand, fill it out and make sure you leave nothing empty. The required information is essential, so you won't be able to get a title conversion unless the application is filled out fully.
Step 4 — Go to Your Local DMV
Take your filled-out application and all the prepared documentation to your state's DMV. You may also need to take the skoolie down there in case they need to verify the VIN or perform a physical inspection of the bus conversion
Make sure you check the specific requirements in your state either by giving your local DMV office a call or visiting their online website.
Step 5 — Pay and Receive
Finally, you'll need to pay the fees. After processing, you'll receive a new motorhome/RV title to replace the old school bus title. Nearly all states will issue new license plates as well.
Requirements for Converting a School Bus Title to an RV/Motorhome Title
If you want to register your skoolie as an RV or motorhome, you should always get in touch with your state's DMV first. Although your local DMV representative may not be well-informed about the guidelines of such a process, chances are they'll direct you to a bigger DMV or a DMV office that specializes in particular situations.
That being said, we've put together the following list of common requirements to give you a general idea of what most states ask for. Some demands are more detailed than the rest, but overall, you should be prepared for the points below:
Meeting the RV or Motorhome Definition
Even though each state has its own set of specifications, they generally define a vehicle with the following aspects permanently installed as an RV or motorhome:
A designated sleeping area — can contain one or multiple beds
A water source — can be a freshwater tank and/or a water shore connection
A food preparation area
An installed fridge
A stove powered by a fuel source, either propane or electricity
A bathroom facility
An installed electric system — states with this requirement will need to verify it's 110 volts at minimum
The Current Bus Title
You need to have the current title to the bus on you. If you don't have it or you misplaced it, then you should follow the steps to acquire a salvage title.
Your school bus may not be necessarily damaged; it just could be so old that the original title can't be found.
Again, each state has its own demands, so you should know what's required of you in advance.
A Bill of Sale
A bill of sale is proof that you've purchased the bus, as opposed to obtaining it illegally. All you need is a receipt from the seller to yourself and it'll serve as such proof.
That said, for the bill of sale to be approved, it should contain a certain set of information. You may be able to download a forum from your local DMV website that'll help you fill out important details and keep the process organized.
If a downloadable form isn't available, your state's DMV website will at least have the requirements mentioned. In general, you'll need the following information:
The date of purchase
The amount paid (U.S. Dollars)
The name, phone number, and address of the seller
The name, phone number, and address of the buyer
A description of the bus stating its year, make, and model
The VIN (Vehicle Identification Number)
Warranty information such as whether the vehicle still has an active warranty, whether the manufacturer or seller offers a warranty, and the conditions of the warranty.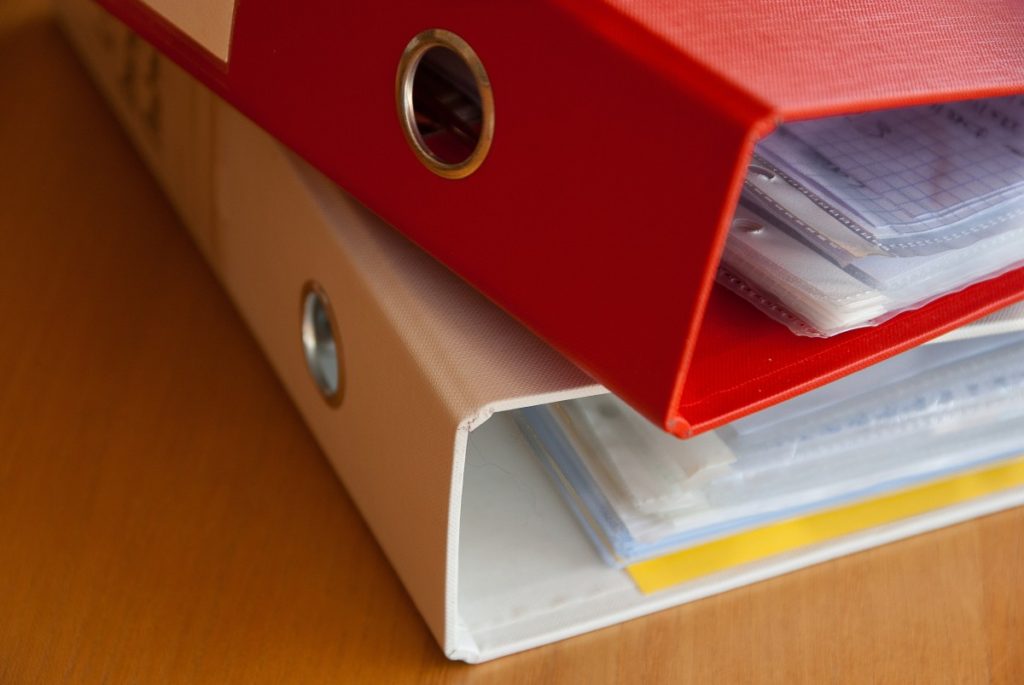 An Updated Driver's License
Another thing you'll probably need is an upgraded driver's license. If your converted school bus weighs more than 26,001 pounds and/or larger than 40 feet, you'll have to obtain a big vehicle license (if the state requires it), which is different from a CDL (Commercial Driver's License). For more info on bus licensing, we've got a whole post about it here.
In this case, you should look up the requirements to get a non-commercial Class B driver's license. This type of license is called a "House Car" license in California.
A Weight Certificate
You'll need a weight certificate showing the skoolie's empty weight. Look for a place in your local area that weighs vehicles using scales under the roadway.
Typically, you'll find a bunch of them in truck stops, truck repair shops, recycling centers, or garbage dumps. When you contact the place, be sure to ask whether or not they can certify your bus's weight.
If it's a yes, then they should be able to provide you with an official form that's acceptable by your state's DMV.
Photos of the Conversion
When you submit your documentation with the application, the DMV will also need you to provide proof that you've already converted the bus.
This is where photos come into play. Simply take some pictures of the interior and exterior of the vehicle to highlight the changes you've made.
In some states, you're required to remove official "school" equipment such as folding stop signs and flashing lights. In any case, your local DMV office will let you know what items you need to remove.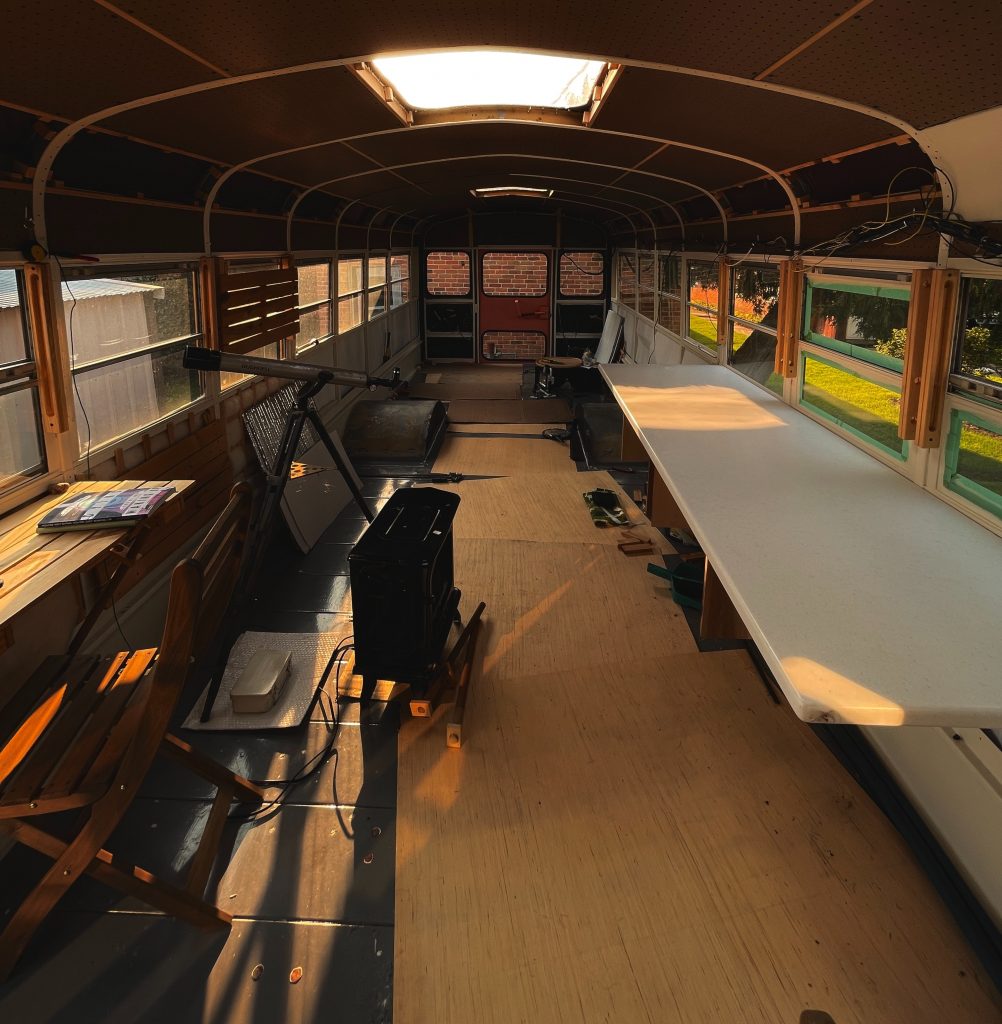 Proof of Insurance
Before acquiring a new motorhome title, you should already have an insurance policy in place. Quick research shows that Good Sam and National General insurance are among the insurance companies that handle converted skoolies, but we've got a muuuch more in-depth post about skoolie insurance here.
Keep in mind that the insurance company may require you to bring in some of the documentation we mentioned in this list such as a copy of the current title, a bill of sale, pictures of the modifications, as well as additional bits of information.
Passing a Physical Inspection
Last but not least, your state's DMV may require performing a physical inspection of your skoolie. They'll do this to make sure you've really made the modifications, as well as verify that the vehicle meets the road safety guidelines set by the DOT (Department Of Transportation).
As such, you should be ready to drive your skoolie up to the nearest DMV office that's equipped for doing inspections — only a handful of DMVs have the resources for it.
Since you're yet to acquire a new title and registration, be sure to contact the DMV before your drive down there and ask about the documentation you need to take with you while driving. Chances are that the current title and bill of sale will be enough.
The State of Vermont Can be Your Loophole
Since 2018, the state of Vermont has been an exception among other states. Their requirements are more forgiving as they don't demand photos of the conversion, proof of insurance, or a physical inspection to register your bus RV as a motorhome.
To top it off, they have no issues registering your skoolie even if you don't live in Vermont! All they require is that you repaint the bus and get rid of any school-related equipment and signage, which you're probably planning to do anyway.
The following steps outline the registration requirements of Vermont to convert your commercial bus title to an RV title:
The age of the skoolie — there are two possibilities for the documentation you can obtain from Vermont depending on how old your bus is: a transferable registration or a title. If your bus is more than 15 years old, then you'll acquire a transferable registration. Otherwise, they'll issue you a title.
A transferable registration isn't quite as good as a title as you can use it only for changing the registration to a different state. It just grants you the needed documentation to title your bus in the state where you live.
The required documentation — the state of Vermont still requires you to send them the current title and a bill of sale. We highly recommend you visit their DMV website to get up-to-date information on their application requirements.
The form of Vermont — on their DMV website, you'll find a downloadable copy of the VD119 form, which is the application you'll use to submit a retitling request. Once you fill it out, make sure you have the rest of the required documentation then send everything out to the Vermont DMV at 120 State Street, Montpelier, VT 05603-0001.
After you've sent in everything, allow a period of 4 to 8 weeks until you receive your new title and license plate.
Wrap Up: Is Converting a Skoolie Title Worth It?
There you have it, a complete guide on how to convert a skoolie title to an RV/motorhome title in the United States. So, is it worth the hassle?
Well, yes! Just ask anyone who has converted a school bus to a motorhome and they'll tell you how rewarding the process can be. Granted, the paperwork can be more overwhelming than the rebuilding itself, but in the end, it's going to be your design with everything you want inside.
You'll know the quality of all the materials that went into making it and you'll be more informed on how to repair anything that may go wrong later on.
To convert a skoolie title, you'll need to do your homework. We've provided you with the most common registration requirements, but each state may still have some variations. While the general procedure is similar across all states, be sure to check with your local DMV for any additional or special requirements.