Another new year has begun, and with it, more opportunities to travel and meet new people! When you have a skoolie, you can combine both of those things and make some new friends at meetups for skoolies, vanlife, and tiny house folks.
These events can be a great opportunity to check out other people's builds, make new friends, swap tips and tricks, and just have a good time with like-minded travelers.
This post is organized by date. If you have another event you'd like me to add, please email me at hello@bestbuslife.com.
Happy travels!
Note: not included on this list is the BCI 4th Annual Winter Bus Rally in Quartzsite, AZ (Jan 16-19) or Bus Conversions Road Travelers Rally (January 20-23, also in Quartzsite, AZ) as both events are sold out already.
Skooliepalooza 2022
Date: January 21-31, 2022
Location: Parker, AZ
Cost: $0 (limited utilities available)
Skooliepalooza is a "camping and skoolie community building event". It's a community, volunteer-driven organization that has hosted several years' of get-togethers. This year's theme is "'X' Marks the Spot".
There are limited utilities available and the event itself will be on Bureau of Land Management (BLM) land.
For more information:
Florida Suncoast Tiny Home Festival
Date: February 5 – 6, 2022
Location: Pinellas Park, FL
Cost: $10 online, $20 at the gate (limited on-site parking)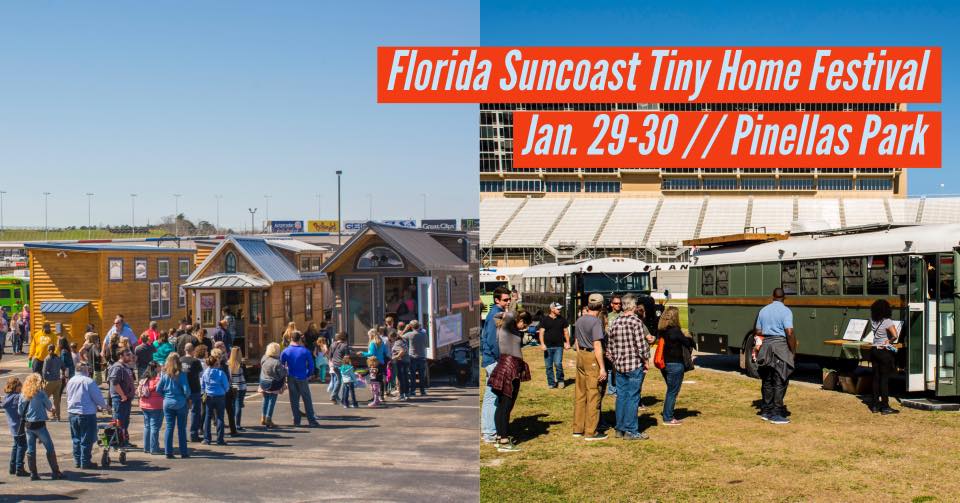 Universal Tiny House puts on a number of events, focused on any kind of "tiny home" living, which includes bus conversions. Their event in Pinellas Park is open to the public, so those without their own skoolie are welcome to come and check out bus conversions (as well as other tiny homes).
For more information:
5th Annual Skoolie Swarm
Date: February 19-28, 2022
Location: Doe Lake Campground in Ocala National Forest, Florida
Cost: $20 ($25 at the gate)
Last year had 154 skoolies, vans, RVs, and other homes. This is Skoolie Swarm's 5th annual event so you know that it'll continue to grow. You don't need a bus to join. No electric hookups available, dogs are allowed (if kept on leash).
For more information:
TinyFest California
Date: March 12-13, 2022
Location: San Diego, CA
Cost: $15-25, depending on when the ticket is purchased and single vs 2-day
One of a few TinyFests on this list… TinyFest events are for tiny houses, van and bus conversions, and other small living spaces. There will be speaker presentations, vendors, and small home tours.
They also have a livestream event for those who want to stay virtual this spring.
For more information:
Skoolie Festival Troy, NC
Date: April 8-9, 2022
Location: Troy, NC
Cost: $25 for a campsite for the weekend.

This event is a weekend skoolie get-together planned by Uwharrie Training Center Community Calendar in North Carolina.
The campsites don't have power or water hookups, although there will be water on-site for jugs. There are potluck and other details on their Facebook page.
For more information:
COBBTOWN Nomadic Adventures
Date: April 15-29, 2022
Location: Cobbtown Acres in Cobbtown, GA
This event in Cobbtown is open to "all nomads, skoolies, coaches, and van life" as well as allowing tent camping.
This meetup will raise money for event costs and the creation for a "Nomadic campground for all those who are on this adventure."
For more information:
The Bus Fair
Date: June 2022
Location: Oakridge, OR
The Bus Fair was originally scheduled for 2021 but had to be postponed.
This event has a lot going on! Their website lists the following attractions: educational seminars, adult beverages, art and food vendors, live music, camping, and dozens of bus conversions to tour.
For more information:
Skoolie U.P. 2022
Date: August 1-8, 2022
Location: Upper Peninsula of Michigan (last year's event was in Gould City)
Cost: $20/day per bus or $35 for a full campground hookup.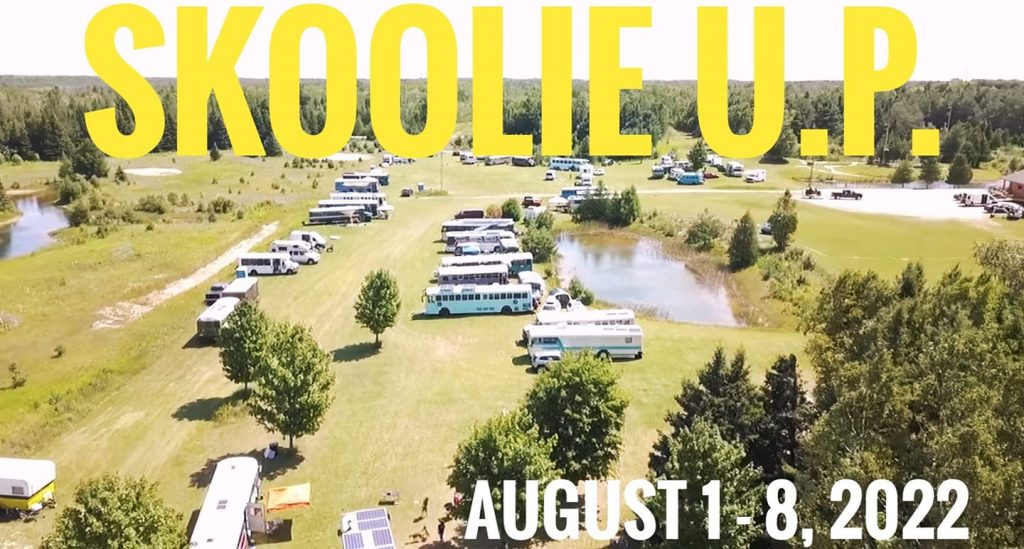 The Upper Peninsula of Michigan is a bit difficult to get to, but well worth it. There's beautiful old forests, the Pictured Rocks National Lakeshore, lots of hiking and state parks, boating, and more. And, the temperature is quite agreeable in the summertime.
Skoolie U.P. will be having their second annual event this summer at a campground with utilities and nearby stores and restaurants. Their Facebook page shows a location in the middle of the Upper Peninsula (more details to come).
For more information:
Halloween Bus Rally
Date: October 28-31, 2022 (pre-rally Oct 25-27)
Location: Willow Beach, AZ
Cost: unknown
This event has limited information available online (you'll need to email or call to reserve your spot). The organizer has a number of previous events under his belt, found on Bus Conversion Magazine's forums.
For more information:
TinyFest Southwest 2022
Date: December 3-4, 2022
Location: Phoenix, AZ (Location TBA)
Cost: unknown
TinyFest is the creation of Renee McLaughlin, who hopes to spread the freedom, sustainability and flexibility of living in tiny homes to others. One way this is done is through TinyFest events, where owners of tiny houses, van life, and skoolies can meet up, learn, and have fun.

For more information:
TBD 2022 Events
These events happened last year, and have mentioned new dates in 2022. But, those dates are not yet announced. Keep an eye out for updates from the following events:
Kentucky Skoolie Meetup
This event was hosted in 2021 in Center, KY (which looks beautiful!). Their website and Facebook group say to expect 2022 dates. Last year's event was in October.
Skoolies Out For Summer
Originally scheduled for June 2021 near Austin, TX. This event was postponed and will happen sometime in 2022. Check out their Facebook page for more details.
NOMADfest
The United Tiny House Association organizes public trade shows focused on tiny houses, skoolies, and other conversions. They also have a private gathering for owners of skoolies and similar rigs. Last year's was in mid September, in Sparta, GA. Keep an eye on their Facebook page or website for another event this year.