If you're like most people, you find it hard to go without your daily cup (or cups?) of coffee in the morning. But if you plan it right, you won't need to sacrifice coffee to live the bus adventure life. There are plenty of options to let skoolie coffee drinkers get their much needed caffeine.
You need to add boiling water for most of these options. That might mean a campfire, or an indoor method such as induction cooking.
Disclaimer: this post contains affiliate links that help keep the site running with no additional cost to you.
With no further ado, here are our skoolie coffee picks from easiest to fanciest.
Brew Bag Coffee
If you've got no space for coffee equipment, or you don't drink coffee frequently enough to justify the cost or space, then there's always instant coffee.
One step up from that is brewable coffee, which function just like tea bags. But with coffee. Check out this option from High Side Coffee.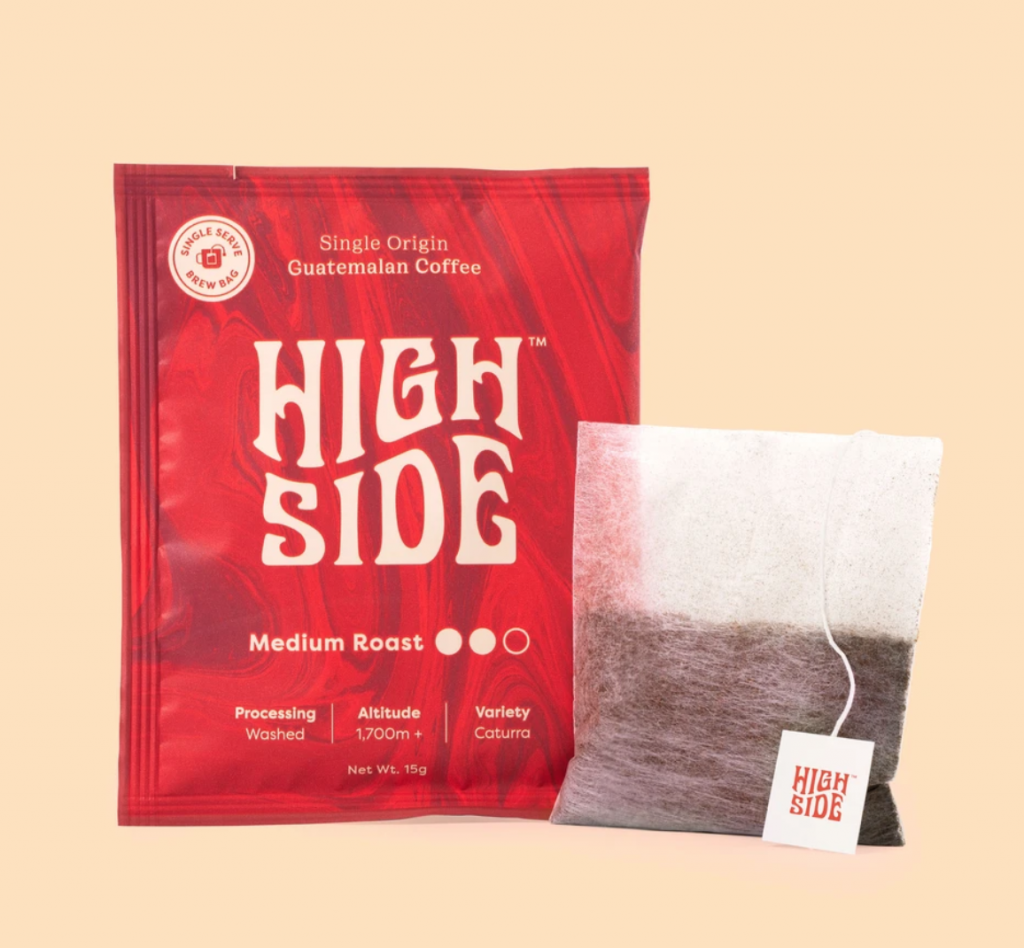 This is for you if: you don't drink coffee that often, are very limited on space, or can get coffee elsewhere.
Wacaco Minipresso Portable Espresso Machine
If you really can't live without espresso, but you don't have the space or electricity for a bigger machine, then check out this portable espresso option from Wacaco. You add ground coffee, hot water, and it creates a shot of espresso for you with no electricity, batteries, or compressed air.
You'll also need espresso, so grab a hand grinder to turn whole beans into ground coffee (it tastes better than pre-ground coffee).
This is for you if: you can't quit the fancy coffee shop habit while traveling, and your bus roommates don't expect you to share.
Bialetti Express Moka Pot
I had one of these in college and it was great for making really strong coffee. There are knockoffs but I believe that Bialetti was the original design. It makes strong coffee in a well-designed, no-frills pot that is easy to stow away when it isn't in use.
It comes in a 1 cup size, 6 cups, 9 cups and 12 cups if you either have a large family or a very serious coffee habit.
This is for you if: you don't mind–or even enjoy–very strong coffee. If you're into sweeter drinks, you might want to choose something else.
MiiR Pourigami
I've owned quite a few MiiR mugs and thermoses and have always been impressed with the quality (particularly the insulation).
MiiR also makes this foldable pour over stand that looks as artistic as it is functional. It's not cheap ($30 from REI at the time of this post) but it does save space.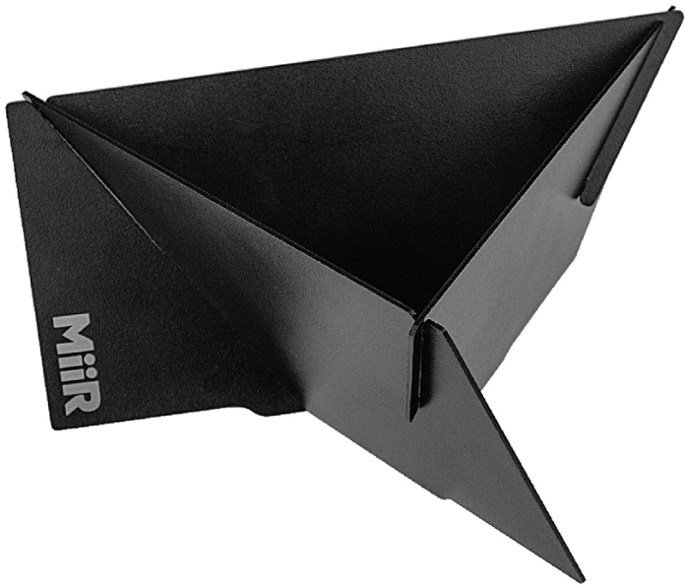 There are other camping pour over options, such as this one from Stanley (always a classic).
This is for you if: you are the only coffee drinker in your group and you don't mind waiting for pour overs.
Copper Cow Pour Overs
If you like pour overs but want a bit of variety in your coffee, check out Copper Cow. I heard about this company through a friend. While I'm not wild about the idea of disposable coffee pour overs every day, I did order some to keep on hand for special occasions.
You can order a pack of flavored lattes, which unfold and turn into a pour over on any mug. Add hot water and you can have a latte in minutes.
The company is woman-owned and has a variety of flavors including rose latte, churro, and salted caramel. They offer normal coffee, too, if fancy lattes aren't your thing.
This is for you if: you want a special treat and enjoy flavored coffee.
French Press
To keep going with the high-brow coffee options, up next is a french press. You add in ground coffee and hot water, press it down, and you'll have coffee-shop quality coffee asap.
This option from Coffee Gator is made with stainless steel (good for skoolie coffee drinkers as most french press options are made of glass).
Don't skimp on quality here: the cheaper options might not have a good seal around the base of the press. This will allow coffee grounds to escape into the upper liquid, which means you'll be drinking gritty coffee.
This is for you if: you like quality coffee and need to make coffee for 2 or more people.
Tayeka Cold Brew Coffee
If you're not in a rush, and you don't want to spend time or battery heating up water, why not go with cold brew?
It's inexpensive, tastes good, and has lower acid. Just put ground coffee and cold water in the coffee maker and put in the fridge for 24-36 hours. Or leave it outside, if it's cold enough.
This is for you if: you're a cold brew fan, you're not in a rush, and you've got a bit of fridge space to spare.
Presto's Diner Style Plug-In Coffee Maker
If you need a lot of coffee, and you've got electricity in your bus, you can you plug in this option from Presto. And (presto!) you'll have 12 cups of coffee ready in a minute.
This option is rated at 120 VAC, and 800 watts.
This is for you if: you've got electricity, and you want a lot of coffee, fast.
Espresso Machines (for the Ultimate Skoolie Coffee Experience!)
If you're really accustomed to the coffee shop life, and you've got 120V in your bus, there are some fancy espresso machine options. (I'm actually describing myself here… we have a refurbished coffeeshop espresso machine on our bus!)
You will have to budget battery consumption for the espresso machines, but there are some options in the 1000-1100W range. I didn't include any single shot options list, as I was trying to avoid them due to waste. The one I looked at actually used more power than more full featured espresso machines!
This option from Gevi has an espresso bar and milk frother (1100W). This option from Mr. Coffee has similar features (and one-touch controls), and is rated at 1040W.
This is for you if: you're absolutely hooked on fancy coffee drinks and are willing to plan your bus design around your coffee habits.
And that's a wrap!
How do you keep caffeinated while on the road? Are there any other tips that fellow skoolie coffee drinkers should know? Share in the comments!