We previously wrote about toilets but… what about some more inspiring skoolie bathroom ideas? This post is a roundup of skoolie bathrooms that would put some hotels to shame.
#1: Going Boundless
First up is Going Boundless' beautiful bathroom. Their space includes beautiful tile floors, a full tiled shower with glass door, cute decor, and even a wall plug. (This is nicer than most home bathrooms!)
Follow them on Instagram (@going_boundless) for more cozy skoolie inspiration.
#2: Happy Homebodies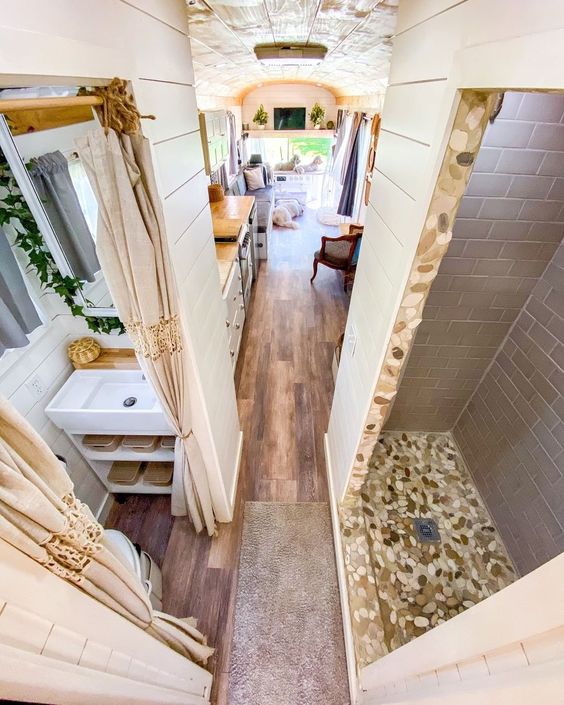 Up next is another hotel-level bathroom from Happy Homebodies, who travel with their three dogs. They use their split bathroom design to include a full bathroom with a large tiled shower, and enough cabinet space for everyone's stuff.
For more beautiful design, follow them on Instagram and check out their new Youtube channel!
#3: Time to Go Adventure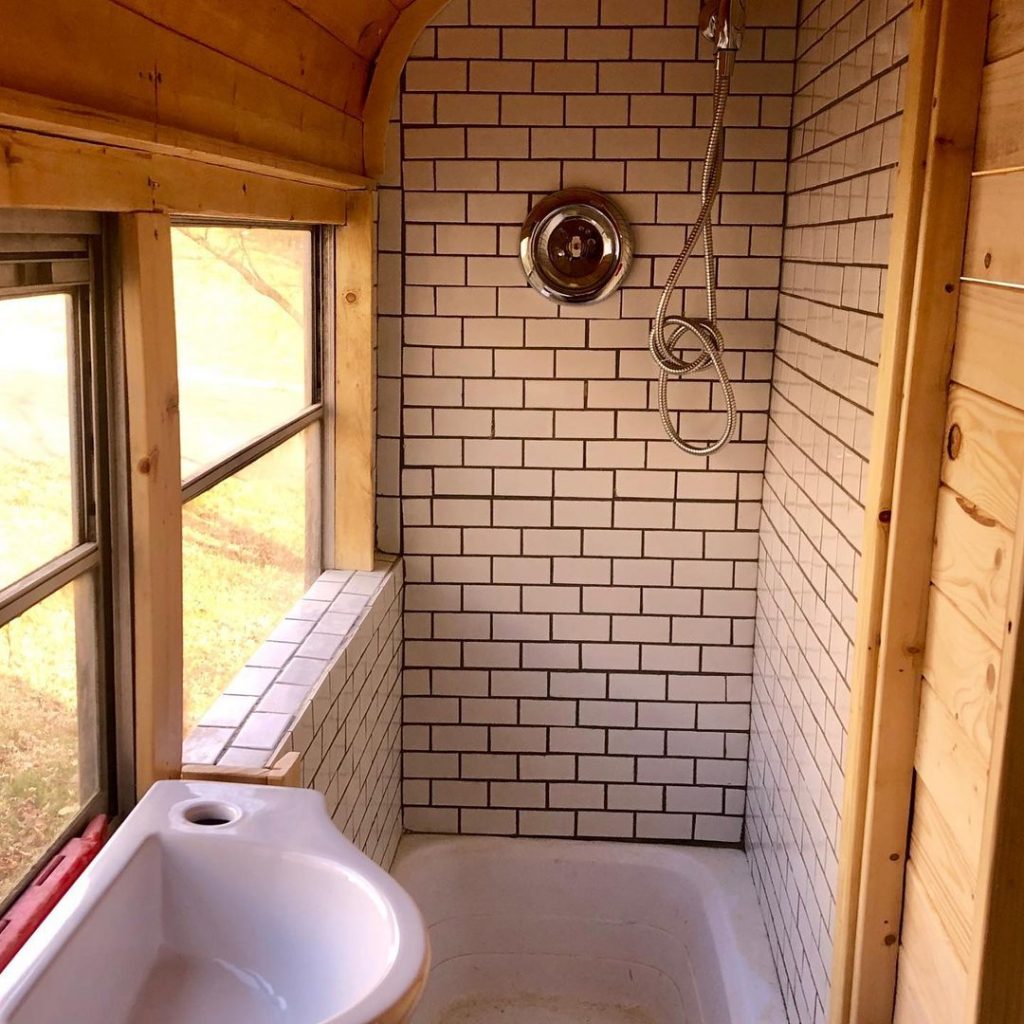 The subway tile in Time to Go Adventure's skoolie bathroom is beautiful but what an adorable sink, too! The rest of this bathroom (out of view in this shot) has a composting toilet with nicely finished wooden walls and floor. They detailed the enormous effort put into this bathroom in this blog post.
Follow them on Instagram at @time_to_go_adventure.
#4: Sara and Alex James
This next bathroom isn't a skoolie bathroom at all, but a van conversion bathroom from Sara and Alex James. We decided to include it anyway because it's a great example of a bathroom in a small space, and space limitation is true for both big and short skoolies alike.
Their blog post says that the tile added 125 pounds of weight. The toilet and shower are very compact (they're the same space). We love the sliding door too!
Follow them on Instagram at @saraandalexjames and check out their blog.
#5: Tío Aventura
Next up is Tío Aventura with probably the biggest bathroom we've ever seen in a skoolie!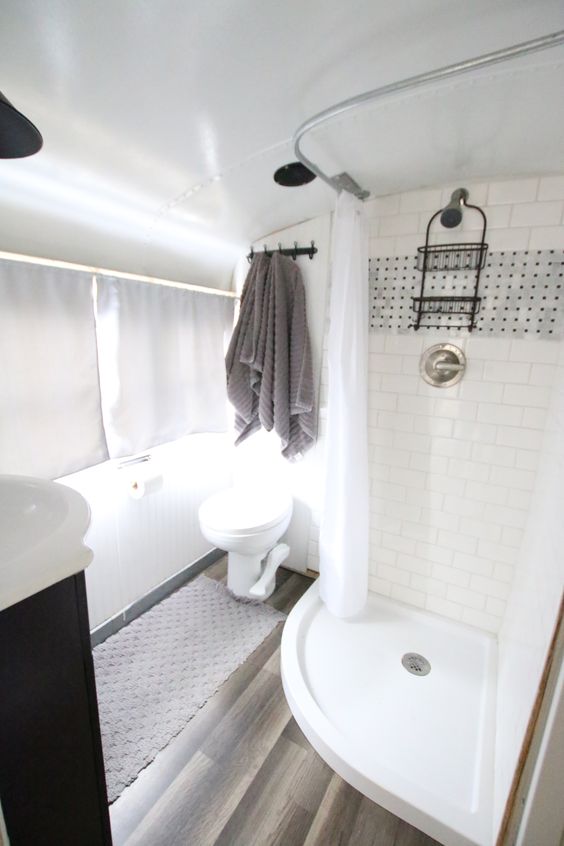 The beautiful tiling, the wood floors, the full sink… 😍😍😍 So much elbow room, too.
Check out their blog here, and more photos on their Pinterest.
#6: The Real Buslife of Cheshire
From across the pond is Real Buslife of Chesire's build. We like how they mixed wood, tile, geometric prints, a composting toilet from Simploo and lots of sunlight for a great bathroom design.
Check them out on Instagram at @therealbuslifeofcheshire.
#7: Sweet Sweet Bus Life
We were already in love with this bathroom–the wall art, the sink, the clean white ceiling–even before we saw the sky light!
Anna and Jeff (along with their 5 kids and a dog) have travel over 15,000 miles without any ceramic tile issues. Follow their adventures on their their Instagram.
#8: Cecilia the Short Bus
Proving that little skoolies can have nice bathrooms, too! Cecilia the Short Bus has a spacious bathroom in the rear of the bus that includes lovely wood sides, a shower head, and even a hanging plant. (This bathroom made an appearance in our "best skoolie toilets" post as well).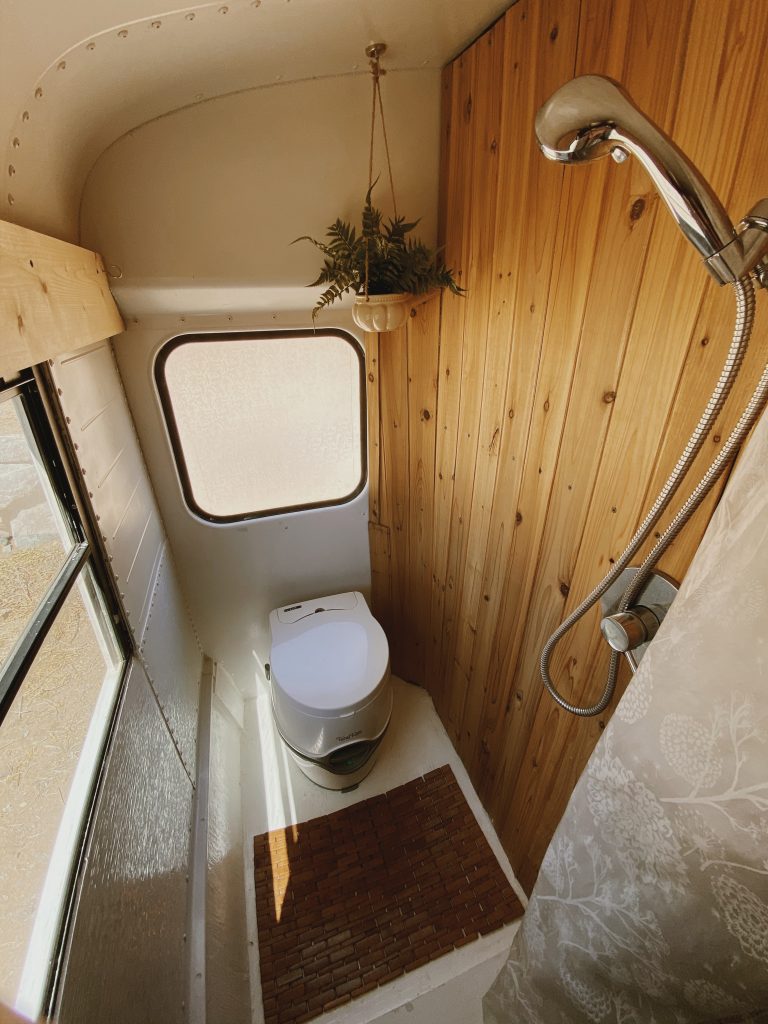 Follow them on Instagram at @ceciliatheshortbus.
# 9: Simple Life Skoolie
This bathroom from Simple Life Skoolie is simply amazing! An entire bathtub inside of a school bus… don't let folks say it can't be done! Their roof raise allows for comfortable showers, as well.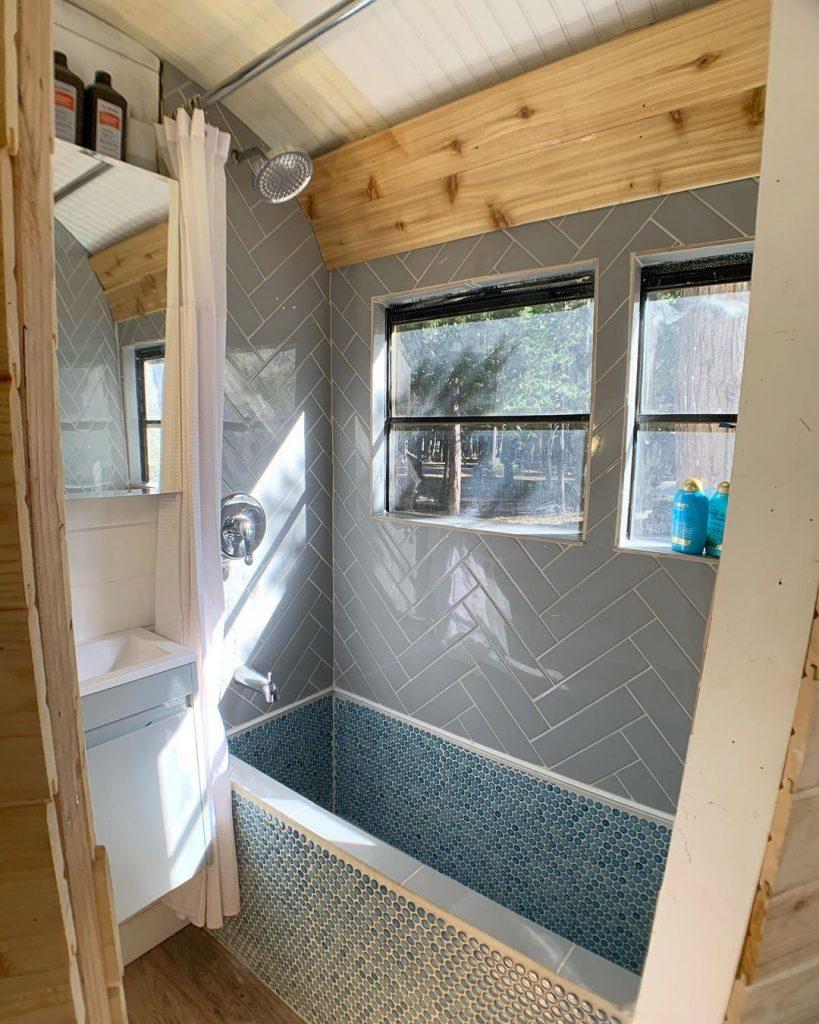 Follow their adventures and ongoing conversion on Instagram at @simplelifeskoolie.
#10: Midwest Wanderers
By now it's pretty clear that we're suckers for tile bathrooms. That's why we're wrapping up this list with this beautiful dark tiled bathroom from @midwestwanderers.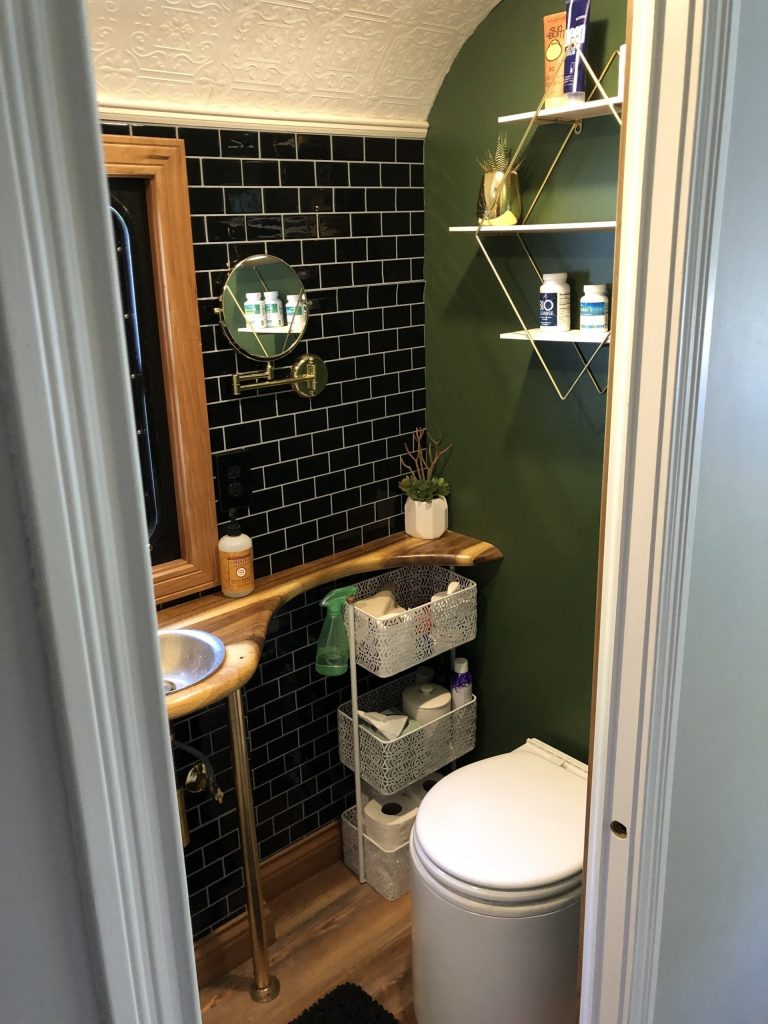 While they no longer live in a bus (they now live in a yurt!) they're still active in the #buslife community and own skoolie.com, which offers custom bus builds.
And that's a wrap!
What did you think of these skoolie bathroom ideas? Which one was your favorite? Did we leave anyone out? Let us know!